Know the Best Organic Products that Fits in Your Daily Diet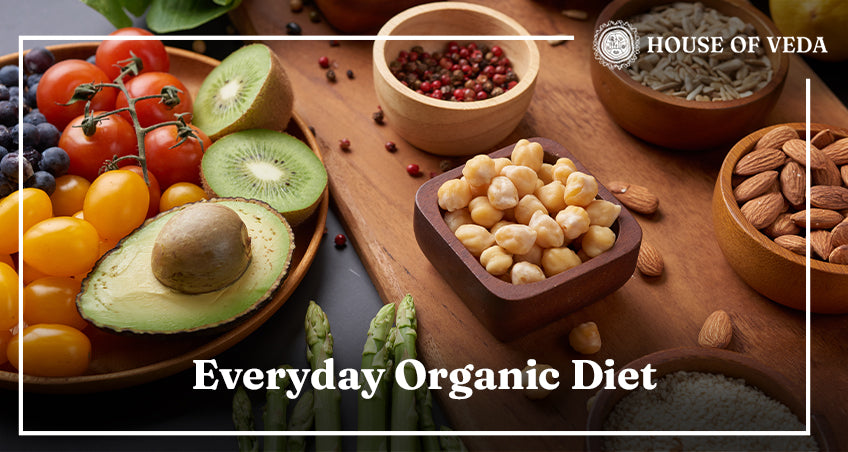 Organic is a food production system that emphasizes the use of renewable resources, particularly energy from the sun, and a return to ecological balance. Organic agriculture uses no manufactured fertilizers or pesticides, and it relies on crop rotation and green manure.
Below are a few Organic products that you must include in your regular diet:
Organic Cold Pressed Oils
You can use organic cold-pressed oils in a variety of ways. They are rich in nutrients and have a low smoke point, making them ideal for cooking or frying. They also have a long shelf life and are easy to digest, making them good for skin and hair. Here is a range of House of Veda Organic Cold-Pressed Oils.
Organic Mustard Oil
Mustard oil is a good source of vitamin E and omega-3 fatty acids. This oil is also rich in minerals such as calcium, magnesium, zinc, iron, and phosphorous. Mustard oil has a pungent taste that lends itself to use in cooking.
Organic Sunflower Oil
Sunflower oil is a good source of vitamin E, which helps protect against free radical damage and is an important antioxidant. Sunflower oil is also rich in vitamin B1, which helps convert food into energy.
Organic Sesame Oil
Sesame oil is a great source of nutrients and vitamins. It's rich in minerals like calcium, iron, magnesium, and zinc. Sesame seeds also contain antioxidants that help fight free radicals in your body which protect us from several diseases.
Sesame seeds have a high smoke point making them ideal for cooking at high temperatures without burning. They can be used in salad dressings, sauces, or marinades because they're stable even after heating up on the stovetop or grill.
Organic Groundnut Oil
Groundnut Oil is a healthy oil that can be used for cooking and frying. It is rich in monounsaturated fats, which help to lower cholesterol levels and prevent heart disease.
Organic Pulses & Beans
Organic and unpolished pulses are also great. If you have time to cook them, they're even better. They are highly nutritious options to add to your everyday diet as they are naturally protein and fibre rich. Some of the Organic Pulses and Beans include:
Organic Moong Dal
Moong dal is a healthy, nutritious, and delicious pulse. It is a great source of protein, vitamins, minerals, and fibre. Moong dal has low-fat content compared to other pulses which makes it suitable for people who want to lose weight or those who are on a diet.
Organic Arhar Dal
Arhar Dal is a staple food in many parts of India. It's used to make a variety of dishes like dal makhani, litti chokha, and kadhi. Arhar Dal is high in protein and fibre which makes it an excellent choice for vegetarians.
Organic Rajma Chitra
Rajma Chitra is an authentic, traditional recipe that has been used for centuries in India. It's made from organic rajma (kidney beans) and organic chana dal. This snack is healthy and tasty, as well as a good source of protein.
Organic Sweeteners
Organic Jaggery is a healthy alternative to sugar, as it is rich in minerals and vitamins. It can be used as a Natural Sweetener, especially for those who want to quit refined sugar. Jaggery has a caramel-like taste that lends itself well to baking cakes and other desserts. You can also use it in cold drinks like lemonade or lime soda if you're looking for something different from regular soda pop.
Similarly, organic coconut sugar is also better than regular table sugar because of its low glycaemic index. It can be used as an exact replacement for refined sugar, and you can enjoy the health benefits it offers.
Conclusion
The health benefits of organic food are well-known, but it is also important to know that there are many benefits of organic products. These products are made in an environment-friendly way using traditional process that don't harm the health & environment at any stage.