A Guide to the Types of Rajma Available in the Indian Market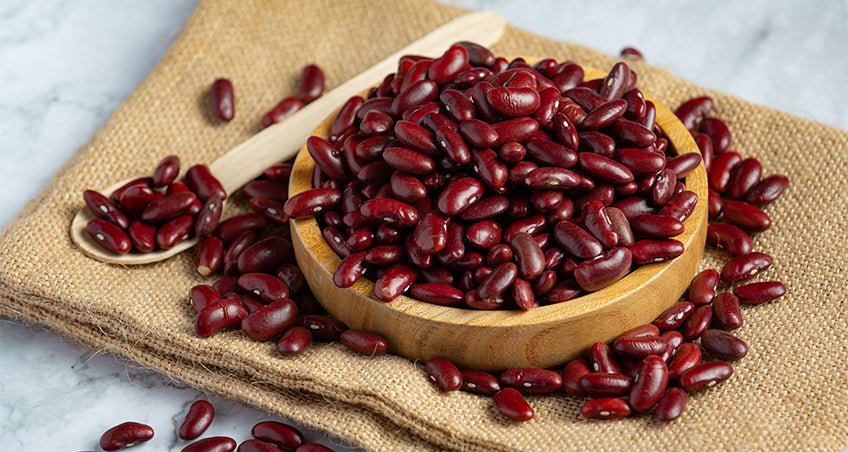 Kidney Bean, more popular as rajma, is a legume crop recognized worldwide. However, it is widely prepared at every Indian home and enjoyed by everyone. There is an ultimate combination of Rajma Chawal, a simple recipe that never fails to win the heart of people.

But with so many types of Rajma available in the Indian market, it can be challenging to pick the perfect one for your meal.

This blog post will look at the different types of Rajma available in the Indian market and provide tips for selecting the best variety for your needs. So, whether you're looking for the classic Rajma Masala or a spicy Rajma Chawal, this guide will help you find the perfect Rajma for any dish.

Different types of Rajma:
There are three types of Rajma readily available in the Indian market:

Red Kidney Beans
When you talk about rajma, the most found variety in the Indian market is Red Kidney beans. These are large beans with a red-brown colour and a distinctive kidney shape. They are widely used in Indian homes because of their rich and creamy texture, versatility, and health benefits. In addition, red Kidney beans are fibre and protein-rich, which can help keep your digestion regular. To make a savoury rajma curry, soak the rajma overnight or for about 8-10 hours. 

Chitra Rajma
Chitra Rajma is a type of kidney bean grown in India, and it got this name because of its appearance. They have a brown color with red spotting on them. If you are more inclined towards healthy eating, House of Veda brings Organic Chitra Rajma grown without using chemical fertilizers and pesticides. This traditional, rustic Indian variety of beans is mostly consumed in its boiled or mashed form as a healthy and delicious accompaniment to any dish.

Jammu Rajma
Jammu Rajma is a variety of red kidney beans popularly grown in the Indian state of Jammu and Kashmir. It is smaller in size and glossier than red rajma, giving it a similar look to red rajma. Jammu Rajma is known for its firm texture and distinctive flavor, which adds depth to various dishes. The beans are usually soaked overnight in water, then pressure-cooked with multiple spices. They are a source of protein, dietary fibre, and minerals. 

How to Pick the Best Rajma?
After knowing the different types of rajma, it must be clear that each one varies in appearance, shape, and taste. However, if you want to buy the best rajma, go for an organic brand. Purchasing Organic Rajma ensures that it is healthier, as all the nutritional values remain intact and free from chemicals and fertilizers. So, make a wise choice, buy organic packaged food, and devour it with your family.