Five Amazing Health Benefits of Organic Groundnut Oil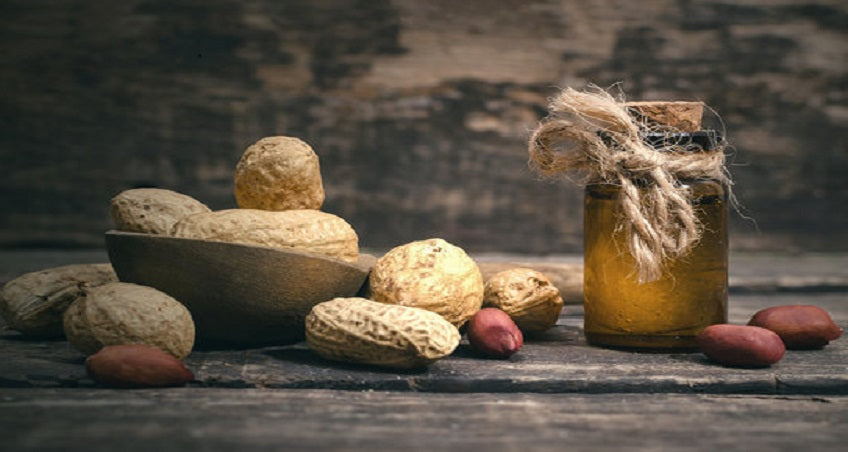 Groundnuts are consumed throughout India, and people enjoy munching them during their free time. However, have you thought of shifting from regular refined oil to organic groundnut oil? This legume plant can offer many health benefits when consumed in oil form. It is made from organic groundnut plant seeds and can be perfectly used for all forms of cooking, including baking, frying, sauteing, etc.
Although it offers a mildly nutty flavour, it can be used to make most of your favourite recipes. In addition, since it has high smoke, it can easily withstand high temperatures without burning your food. 

It is rich in vitamin E and contains monounsaturated and polyunsaturated fat, offering many benefits to the body. Moreover, opting for cold-pressed groundnut oil gives an extra advantage as it has many more nutrients than any other oil. 

Benefits of Groundnut Oil for Your Body: 
The oil has been linked to several benefits because of its versatility. Let's have a look at some of the health benefits: 
Good for Heart Health
Peanut oil naturally contains monounsaturated and polyunsaturated fats, collectively called good fats. Therefore, making food in it can be good for your heart. Also, regular using this oil can lower the risk of certain heart diseases.  
Loaded with Antioxidants
The role of antioxidants is to safeguard your body from all types of free radicals and toxins. Fortunately, Organic Groundnut Oil naturally contains vitamin E and phytochemicals that may help reduce inflammation. In addition, the presence of vitamin E in this oil can also help perform several essential body functions. 
Keeps a Check on Cholesterol Levels
Organic groundnut oil by House of Veda is cholesterol-free. And eliminating bad cholesterol from the body can help you prevent several health complications. In addition, this oil helps lower cholesterol because of the presence of phytosterols which absorb cholesterol from the stomach and gut. 
Good for Massage Therapy
Taking a massage from groundnut oil relieves and rejuvenates and can relax the muscles. If you apply it regularly, it can provide comfort to painful joints and muscles. You can also use it to nurture your baby's skin. 
How to Use Groundnut Oil? 
The most important question people frequently ask is about the usage of groundnut oil. It can be used to prepare many food items, including snacks, appetizers, gravies, soup, and much more. Try your hands in making different delicacies with it and feel good about it. 
Does Groundnut Oil have Side Effects? 
It is essential to find out the side effects of this edible oil so that you use it cautiously. However, peanut oil has very minimal side effects. On the other hand, you are allergic to peanut, you may experience abdominal pain or vomiting.
Summing Up:
The popularity of groundnut oil is increased worldwide because of its benefits. It has several nutrients and minerals needed by our bodies. In addition, it has antioxidants, lowers cholesterol levels, keeps heart health intact, and can be used in massage therapy.