Three Traditionally Made Wholesome Jaggery Recipes to Try this Winter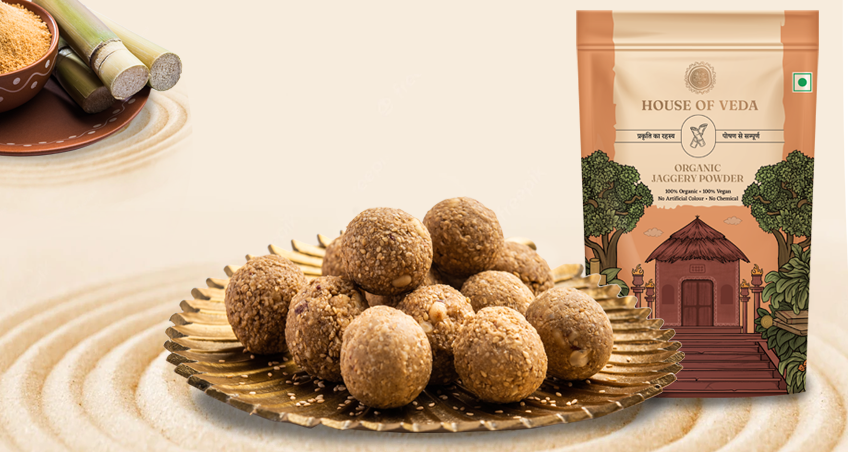 With the onset of winter, we can all do with some extra energy and warmth. Luckily there are many ways to boost our moods and give ourselves a little pick-me-up. One such way is through a snack that's both tasty and nutritious and it doesn't require much time and effort to cook. One such food option that you shouldn't miss during winters is Jaggery. It has been used in India for centuries, especially during the cold winter months when people need more energy and warmth than usual. It's also known as "gur," and is already accepted by many people as a healthier substitute for sugar because of its variety of beneficial properties.  
The Power of Organic Jaggery
Organic Jaggery is a traditional sweetener that comes from the sap of organic sugar cane. It's made by boiling down white or brownish liquid traditionally extracted from these creeper plants. Jaggery has been used for centuries as an alternative to refined sugar because it offers many health benefits: it's rich in minerals, vitamins, and antioxidants; contains more potassium than any other form of sugar; is good for digestion, and boasts high mineral content, all things you want your body to have after you eat something delicious!
So, winter being all around the corner and it is undoubtedly the best time to enjoy bowl of warm, rich, decadent yet traditional jaggery recipes.
Here are a few recipes to savour this season:
Jaggery Rice
This is again an enticing traditional recipe made with rice. This sweetened rice dish is made with a very basic ingredients easily available at home including rice, jaggery, and spices. It is best eaten warm and loved by kids and people with sweet tooth.  It can be consumed in place of regular rice or with warm milk but don't forget to add cloves and cardamoms if you don't wish to miss that zing to the dish.
Gur ki Roti
When all you crave is healthy, easy, and delicious recipe, prepare a tasty jaggery roti made with House of Veda organic jaggery powder and wheat flour. You can savour these sweet rotis in breakfast, as an evening snack, and even at night. Don't forget to top these rotis with ghee as it adds richness to the dish.
Sesame Jaggery Laddoo
The combination of Jaggery and sesame in winters is unbeatable. The former is a natural sweetener with many health benefits and the later is also rich in calcium, iron and magnesium. This delectable and nutty laddoos make a good warming sweet snack for the winters.
Savour all jaggery health benefits this winter!
We hope that you've enjoyed this guide to traditional jaggery recipes and found a new way to use this ancient sweetener.